In the closest PDC World final in 6 years, Peter Wright overcame Michael Smith in a thrilling clash, by a scoreline of 7 sets to 5. Proceedings began nervously with the first set featuring some poor doubling and shaky signs from both, a set in which Wright just had enough to edge it. But it didn't take long for both to play themselves into a bit of form, with a 180 and 140 visit from Smith and Wright respectively to begin set 2 a sign of things to come. From 1-1 in set 2, Wright knocked in two consecutive ton-plus checkouts of 148 and 124 respectively to take a 2 nil lead over 'Bully Boy'.

Smith got his act together though and had a ton-plus out of his own – 167 – in the third leg of set 3 to lead 2-1 in legs, eventually taking the set. The next set went to a decider in what felt like a crucial moment for Smith to keep within reach of Wright. Smith did indeed do the business in the fifth leg to pull back to 2-2. The next two sets were exchanged between the pair as both upped their throwing to leave proceedings equal after six sets. Smith then established his first lead of the match when he took set 7 to love, in what looked like a turning point in the match. But in typical Wright fashion, and in a passage of play which embodied his resilience and ability to deliver even with the odds stacked against him, he took out a 72 checkout in the last leg of set 8 to bring the game to 4-4.

After set 9 went Smith's way, the game reached a pivotal point with Smith 5-4 and 2 legs to nil up, with 'Bully Boy' eyeing the Sid Waddell Trophy in all its magnificence up. However, when it mattered, Wright clawed back into the match, winning nine of the next 10 legs, upping his average and finishing every of his winning legs in 15 darts or less. It was an incredible climax to an event which really impressed in the closing few days and left Smith only able to keep throwing in the hope Wright would slip up. But indeed he didn't, and the title was Wright's.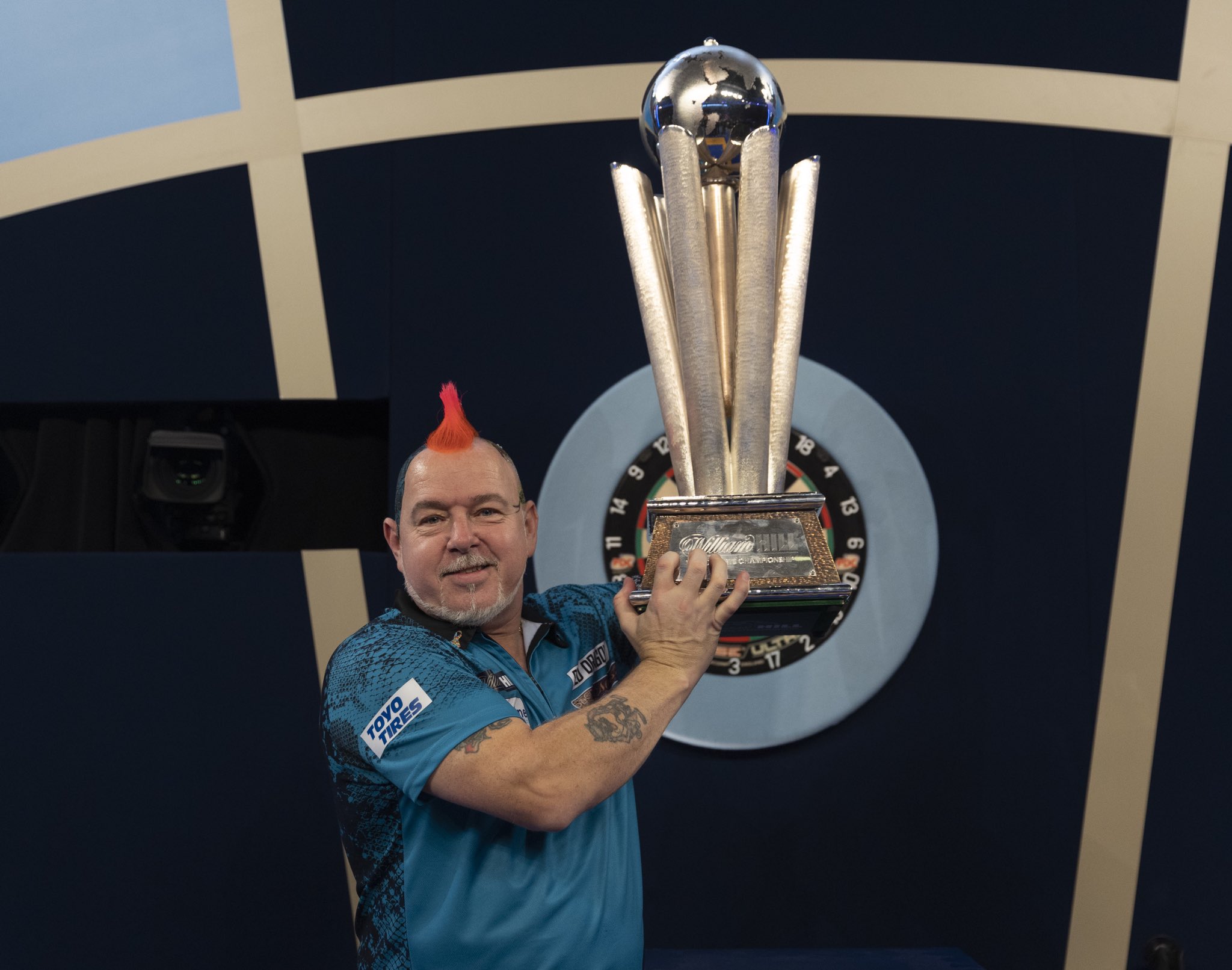 Wright on the night

When push comes to shove, a champion is someone who can deliver even when the odds are short and tensions high. And when it mattered, Peter Wright was that man during this PDC World Championship. It was a resilience required in an event rocked by premature Covid withdrawals and set alight by scintillating performances, particularly from some of the circuit's hottest up-and-coming talent. In the end, it was Wright who could be counted on to seal the deal, and with that he becomes just the 5th person to win multiple PDC World Championships just 24 months on from a victory which firmly established him as one of the greatest to throw a dart. He will now go on to 2022 hopeful that he can resume his disrupted reign as the world champion on the exhibition circuit around the country, and with more success firmly in his sights.

World Championship heartache for Smith

It felt in so many ways as if the World Championship was pivoting towards a fairytale-esque ending for Michael Smith, in which the thought of lost major finals would be banished and the game could crown a new world champion. However, despite once again producing one of the highest-scoring performances seen on a world stage, with 24 180s the order of the day, it just wasn't enough. Why? Well, in part because of missed doubles as is always the case, but also because of Wright's steely hardiness to ignore anything that might go on before and after him to affect his pattern of play and rhythm. There is little you can do when blitzed off the oche in the fashion Smith was in the last 2-and-a-half sets. Smith's consolation will undoubtedly be time, and the hope that eventually a victory in a major final can come which ends the doubt in the back of his mind. He will look to a 2022 calendar filled with opportunity. But, for now, that will do little to stem the painful nature of yesterday's loss.

Palace closes its doors for the darts

It would be fair to say there were significant doubts hanging over the World Championship before the last few days of competition, both over in what state it would be completed and in what the overall quality could be looked back on as having been. But in the last few days, it really turned up to party (luckily for Peter Wright). An excellent closing few rounds saved the championship from ending on a damp squib, and that is credit to the quality of the matches and efforts of the players. A fabulous conclusion to the championships, and start to the darting year.